Events DC's Emmy-nominated short documentary, "Outside Line," will make its Washington, DC premiere at DC/DOX, a major new documentary film festival in the nation's capital, on Sunday, June 18, 2023 at 5:30 p.m. The film, which was produced by Events DC staff at GATHER by Events DC, will be on the slate for DC/FRAME, a special festival program curated in partnership with HumanitiesDC.
"Outside Line" follows the career of up-and-coming NASCAR driver Rajah Caruth of Washington, DC. Caruth, who, determined to fulfill his childhood dream of becoming a driver, pursued the only path he saw available: virtual racing. He made a name for himself in the online world of iRacing, leveraging his rapidly growing talents and personal brand into a spot in a real-life race car. In the few short years since Caruth first got into a car, he has risen to NASCAR's penultimate racing series, with his sights set at the top.
"Rajah Caruth's rise through the ranks of NASCAR, as captured in this Emmy-nominated film, is a true embodiment of the vibrant spirit and fierce determination that define the people of Washington, DC. We are proud to be one of his major sponsors for the past three years, supporting his continued success as an athlete and a representative of the future of our great city," said Events DC President and CEO Angie M. Gates. "Our GATHER platform and content initiatives bring meaningful, engaging storytelling about the world-class experiences Events DC delivers to the people of DC and beyond, and we are honored to showcase Caruth's extraordinary journey as part of that effort in the first DC/DOX film festival. We are the Creative Capital."
On May 18, 2023, the National Capital Chesapeake Bay Chapter of The National Academy of Television Arts & Sciences announced that "Outside Line" was nominated for the 65th Capital Emmy Awards. The film, directed by Jack Gordon and executive produced by Emma Barcklow, was nominated in the Sports Story—Long Form Content category. This is the fourth film from GATHER by Events DC to receive a nomination. Last year, Events DC made history with its first Capital Emmy Award winner, "Embassy Chef Challenge: Afghanistan."
"It's a blessing and honestly dream come true to share this chapter of my story in my hometown, and to have the piece recognized," said Caruth. "I have to thank Jack and his entire team for their tireless work of showcasing my family and me. I hope all enjoy the film!"
The inaugural DC/DOX festival will be held June 15-18, 2023 in Washington, DC. DC/FRAME will feature films made by documentary filmmakers from the Washington metropolitan area, celebrating the city and telling stories that demonstrate a deep resonance with the city: its people and places, arts and culture, politics and policy.
"DC/DOX and HumanitiesDC are proud to partner on DC/FRAME," said DC/DOX co-founder and festival director Sky Sitney. "DC/FRAME embodies the festival's mission to celebrate the power of documentary film as both an art form and a way to shed light on important issues, and what better messengers to do that than filmmakers from right here in DC."
"Outside Line" will feature in the DC/FRAME: I Did It My Way program on Sunday, June 18 at 5:30 p.m. at the Eaton Cinema at 1201 K Street, NW. Tickets to the screening are free, and you can reserve tickets and find more information here.
"Outside Line" made its World Premiere in February 2023 at an event in Los Angeles, California in collaboration with NASCAR. Since then, the film has screened at notable film festivals across the United States, including the Academy Award-qualifying Pan-African Film Festival, American Documentary & Animation Film Festival and RiverRun International Film Festival.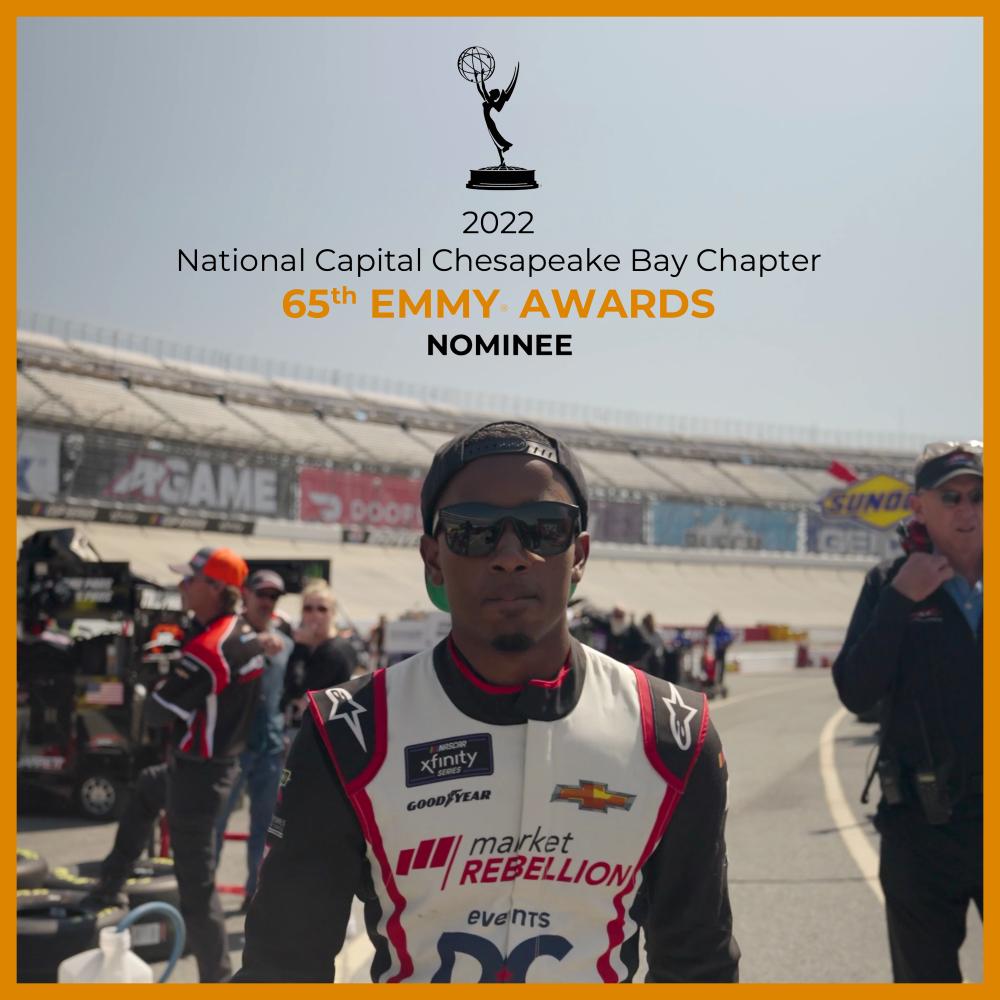 About GATHER by Events DC:
GATHER by Events DC is the destination to discover live events in DC via award-winning video content. By sharing the stories behind iconic DC events, we aim to connect audiences to DC's best experiences, year-round. GATHER programming has earned four Capital Emmy® nominations and one win, as well as several national awards including three Gold Tellys.
About Events DC
Events DC, the official convention and sports authority for the District of Columbia, delivers premier event services and flexible venues across the nation's capital. Leveraging the power of a world-class destination and creating amazing attendee experiences, Events DC generates economic and community benefits through the attraction and promotion of business, athletic, entertainment and cultural activities. Events DC oversees the Walter E. Washington Convention Center, an anchor of the District's hospitality and tourism economy that hosts more than 1.7 million visitors and generates more than $400 million annually in direct economic impact and the historic Carnegie Library at Mt. Vernon Square. Events DC manages the RFK Stadium-Armory Campus (RFK Campus), including Robert F. Kennedy Memorial Stadium, Festival Grounds at RFK Campus, the non-military functions of the DC Armory and the Skate Park at RFK Stadium. Stay current on the 190-acre RFK Campus Redevelopment Project at www.RFKFields.com. Events DC also built and serves as landlord for Nationals Park, the first LEED-certified major professional sports stadium in the United States. Events DC manages Gateway DC, R.I.S.E. Demonstration Center and Entertainment & Sports Arena all conveniently located in the Congress Heights neighborhood of Washington, DC. For more information, please visit www.eventsdc.com and find us on social media – Facebook, Instagram and YouTube (Events DC), and Twitter (@TheEventsDC) — and on our new hub for on-demand event programming on GATHER by Events DC at www.gatherbyeventsdc.com